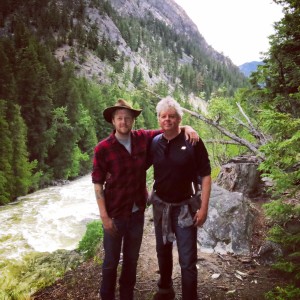 The Canadian Leaque of Composers
Playwrights Guild of Canada
Canadian Aboriginal Music Award-2008
Hello Everyone;
Letting you know that I have been a a part of the arts in Canada and much further abroad for the past 40 plus years. I continue my work as a composer, musician, arranger, music director, conductor, playwright, artistic director and record producer.
Here are some things that are happening for me right now.
Every Wednesday evening I am rehearsing the Sooke Community Choir for our upcoming May concerts titled: The Spirit Train.
Working away at a Canada Council commission to write a theatrical work based on the Chilcotin war of 1864. Working title: A Road Story
Preparing for a September production of my full length concert work for mixed voices and instrumental ensemble titled: The Five Seasons. This work was made possible by a generous gift from Haida Robert Davidson and a substantial grant from the music division of the Canada Council.
Thanks for the 'still under construction' visit. Much appreciated.
Bruce
Here's my email address: bruceruddell123@gmail.com
If you are interested in the performance rights for any of my music or my plays please contact Colin Rivers at http://www.marquisent.ca/
Image of The Raven  for Beyond Eden designed by Gwaai Edenshaw
Photo-John Arnett-Above the Stein with my son Adam.